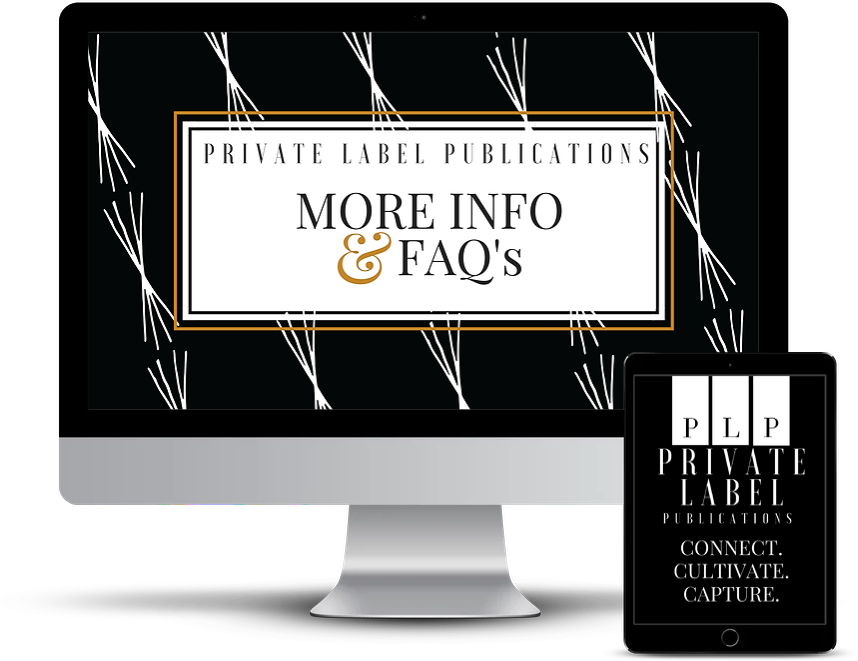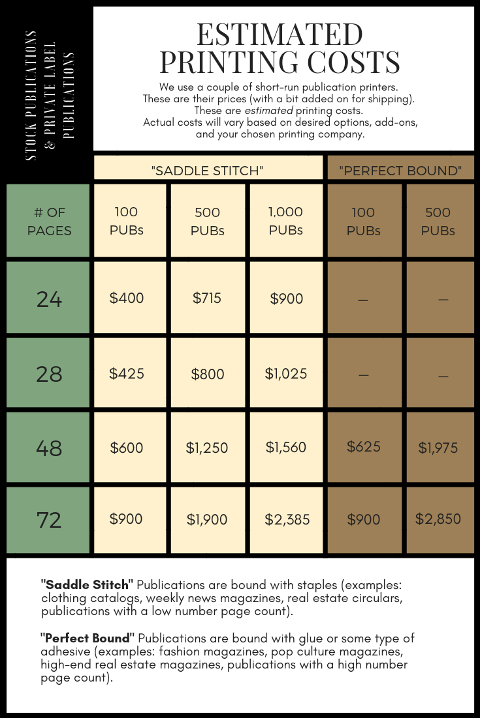 WE LOVE QUESTIONS!
Below is a list of the questions we are asked most OFTEN.
If there is a question not on the list, drop us a line!
We are more than happy to shARE OUR INFORMATION,
KNOWLEDGE, AND INSIGHT.
HOW DO I INQUIRE ABOUT HIRING PRIVATE LABEL PUBLICATIONS?
To start, just drop us a line. We embrace "simple" so we've made it as simple as that. In your email, tell us a little about yourself, what you are looking for, the name of your business, and any other thoughts and ideas you may have for your future publication. We love brainstorming with folks and are more than happy to give our time and hopefully bring your vision into reality.
Please keep in mind, EVERYONE can take advantage of a complimentary strategy session. These strategy sessions are NOT high-pressure sales calls — we simply exchange ideas, share our thoughts about marketing and content advertising, Hopefully, your takeaway from our conversation is "Yes, I would love to work with Private Label Publications." If not, that's fine, too! As long as you found value in our conversation, that's cool because when you are ready to venture into news-zine publishing, we are confident you'll give us a shout.
HOW LONG DOES IT TAKE TO PRODUCE A PUBLICATION?
It all depends on the overall length of your publication and what features you would like to include in your publication. We like to plan for about three-four weeks of production — start to finish. Of course, there can be little bumps along the way because that's life sometimes. The quicker everyone is with communication, the quicker production time period.
WHAT IS YOUR PROCESS? WHAT IS INVOLVED?
Again, we love simple things. Our process and how we do things is no different! After our complimentary strategy and brainstorming session, there are four additional phases in our process:

PHASE ONE : The Concept
We will create a 16-page concepts & design publication containing ideas and mockups based on our recent strategy session. You should review these concepts, make notes, and let us know what you think. We are more than happy to go back to the drawing board until you are satisfied with the look and feel of your publication. The concept publication we create for you is just the beginning.

PHASE TWO: The Content
Once you have approved the overall style for your new publication, our professional team of writers and editors will get to work creating the content. During this phase, you will be asked to approve all of the articles, stories, and features that will appear in your publication. If you have any pre-written content you would like added to your publication, this is where we would collect that content from you.

PHASE THREE: The Production
This phase is where your project takes shape as your approved design elements and content are carefully assembled into a gorgeous publication befitting of your business, brand, and image.

PHASE FOUR: The Final Review
When the pieces of your beautiful puzzle have been put together, we will present your completed publication. During this phase, you should request final changes, alterations, and modifications. If something just isn't "working" for you, we will change it until it does. We aren't satisfied until you are satisfied. Plain and simple.
CAN I SUPPLY MY OWN CONTENT AND IMAGES?
Of course! While we typically create the entire publication from scratch for you (no finger lifting on your part), we believe in the power of creative collaboration and invite anyone to work with us. Providing us with personal images is especially important in the process — especially if your publication is property-centric. While we do purchase images on your behalf, there is nothing like personal images of your team, office, and other images that uniquely represent you and your brand.
HOW MUCH DOES ONE PUBLICATION COST?
Our prices can be found on our Services and Pricing page. We offer four different tiers of products and services (Spotlight, Showcase, Banner, & Flagship). Find the tier that works for you and simply calculate how many pages you desire in your publication by the price per page. A wonderful alternative to our custom publications can be found at our sister company, Stock Publications. All of the offerings on the Stock Publications website are our own creations, scaled down to fit any budget. These publications are a more affordable option for those with smaller budgets or for those who would rather publish stunning publications on a more regular basis.
CAN I ORDER JUST ONE PUBLICATION OR DO YOU HAVE TO ORDER A MINIMUM NUMBER OF PUBLICATIONS?
You certainly can order one publication! We aren't going to make anybody order what they don't need. Again, Stock Publications is a great resource if all you need is one publication — mix and match our offerings, then edit, alter, or modify to create a publication that is uniquely yours.
DO YOU HAVE A MONEY BACK GUARANTEE?
Due to the nature of this type of work, we do not have a money back guarantee. We do require 50% down to start your custom publication and require the balance to be paid upon successful completion of your publication(s) and prior to delivery. If you are unsatisfied with your publication, we will do everything we can until you are satisfied and happy. If you still aren't happy or satisfied, we will not make you pay the balance.
IF I DECIDE TO WORK WITH YOU, HOW DO I PLACE AN ORDER FOR A CUSTOM PUBLICATION?
After our complimentary strategy and brainstorming session, we will go over the various tiers. You choose your tier, and we will proceed. We will gather additional information from you (branding and style guide, pictures, bios, and more) and request the 50% down payment via emailed invoice. Once payment has been made, we will get to work on your concepts and design publication. Told you this was simple!
DO YOU REQUIRE CONTRACTS?
No. We do not require contracts because we create and invoice on a PER publication/tier basis. We are good and honest people and prefer to work with other good and honest people. If a client is unsatisfied and decides not to pay the balance due, we won't take that client to court, but we also won't work with them again.
WHAT IS YOUR PRIVACY POLICY?
We have a very strict privacy policy. We do not disclose any of our clients or their information to anyone. We are a private label firm which is just that, PRIVATE. While it would be great to show actual work we have created for our clients and talk about them, we cannot. This unique privacy policy is something we have chosen to adopt as private label providers of publishing services and publications.
DO YOU HIRE FREELANCERS OR WORK "IN HOUSE" ONLY?
We love freelancers! However, all of our work is done "in house." We have greater control over quality and timeliness if we just do it ourselves. Are we creative control freaks? Yeah. Yeah, we are.
WHERE ARE YOU BASED OUT OF?
Glad you asked! We are headquartered in International Falls, Minnesota ("Icebox of the Nation"). We find our surroundings a lot less chaotic than other places and it shows in our work and mental attitude. That said, we have been known to meet clients on a regular basis in Minneapolis, Reno, and Nashville.
WILL YOU TRAVEL TO A JOB SITE TO CONDUCT INTERVIEWS AND/OR TAKE PHOTOS FOR FEATURES AND STORIES?
We will come to you! Of course, there is a travel fee. Check out our Services and Pricing page for more information.
DO YOU "RECYCLE" YOUR CONTENT, AD COPY, AND DESIGNS?
All of our written copy is 100% unique and created specifically for one client and one client only. Everyone has different needs and ideas. There is never any reason to recycle any of our copy. Besides, we are too imaginative for that. As far as designs go, we go the extra mile to create publications that are unique to each client. Yes, there are some page layouts that are similar in nature. You will find that in every publication — basic and simple works. However, all content is unique which lends to a custom publication.
There is one caveat to this question. Our Stock Publications division is a true, stock content provider — meaning: we create publications (in our famous news-zine style) that are available for instant download by anyone, anywhere. The idea behind "stock" content is to edit, alter, and modify to create a publication that is unique to you and your business.
Rest assured, the content we create for our Private Clients is protected by copyright law, with the copyright owned by the Private Client, not us. Therefore, we cannot use any custom content to use on our Stock Publications website. It's better this way. And again, we are too imaginative to "steal" copyrighted content owned by our Private Clients, even though it was created by us.
WHO OWNS THE RIGHTS TO A FINISHED PUBLICATION?
In case you didn't read the above Q & A, when you hire us to create a private label publication. You own all rights to that publication upon final payment. These aren't inexpensive, low-quality publications, and we feel you have every right to truly own what you have paid for.
HOW DO YOU SHARE FILES?
We work with JPGs, PNGs, and PDFs. All of our final publications are delivered in print-ready PDF format and JPG format. PDFs are universal and are readily acceptable by short run printers and online distribution software. JPGs are easily editable in "beginner" level graphic design programs, such as Canva. Our graphics collections are delivered in both JPG and PNG formats.
DO YOU ASSIST IN PRINTING OR DISTRIBUTION?
Our Banner and Flagship tiers offer printing consulting and administration. With either of these tiers, we will take care of getting your file to the printer of your choice, obtaining proofs, and ordering your publications.
HOW MUCH DOES IT COST TO PRINT AND DISTRIBUTE PUBLICATIONS?
At the top of this page is a table with estimated printing costs using two companies we have worked with and have been pleased with their quality. We are NOT affiliates of these companies, so we feel confident directing our clients to do business with them because our opinion is truly our own and not influenced by money or free products... not that there's anything wrong with that. There are so many variables when it comes to answering this question — starting with the printing company. Always do your research. Most short run print companies have instant print quote calculators available on their websites. Choose your options and go from there. Of course, the more you order, the less expensive it is.
DO YOU ASSIST IN OBTAINING ADVERTISERS FOR PUBLICATIONS? We do not. The publications we create are not your standard magazine that makes money from advertisements. Our publications are meant to showcase and spotlight our clients, their properties, business, and lifestyle.
DO YOU OFFER "STOCK" PUBLICATIONS AND TEMPLATES OR ONLY CUSTOM PUBLICATIONS?
Yes!!! Our sister company, Stock Publications, is our stock content division. Stock Publications offers a variety of selections to choose from to create the publication of your dreams OR to use in your social media marketing and email campaigns. Check out Stock Publications today!
STILL HAVE MORE QUESTIONS? READY TO SCHEDULE YOUR COMPLIMENTARY STRATEGY SESSION?